If you're new to social media marketing, analysing your insights can be a bit daunting until you know what they all mean.
Engagement on social media is a measure of how many times people interact with your account and content. This includes likes and favourites, comments, DMs, replies, shares, retweets, saves, clicks and mentions.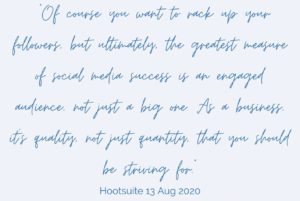 High engagement shows that your audience is finding your content interesting and your reach increases organically whenever people interact with your content. This is because social media posts with active and meaningful engagement will be prioritised by the algorithms and get more reach.
So, a high engagement rate is much more important than the basic number of your followers and you should always strive to increase your engagement.
---
---