Calling all plumbers, carpenters, joiners, builders, bricklayers, plasterers, landscapers, gardeners, electricians, decorators etc!
Are you among the 85% of tradespeople who aren't sure how to use your social media to market your business? Read my top tips for tradespeople and see if you can up your social media game!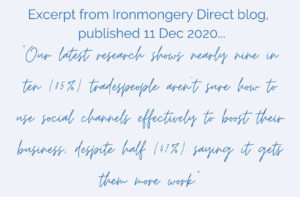 1: Make a business page rather than using your personal profile.
Business pages appear more established and trustworthy to potential customers. Also, it's a good idea to separate your personal posts and comments from your business.
Setting up business pages on social media is easy. On Facebook you will set it up through your profile, on the other platforms, you will need to set up a new account. These only really take a few minutes each.
Make sure that you fill out all your profile information as fully and as accurately as possible. This information will be used to show your business in search results.
2: Engage with people and other pages.
You will need to engage with other people and pages to start growing your following. As well as adding relevant posts to your social media when you can, you should also set aside some time at the end of the day to browse feeds, respond to comments and messages and monitor the local community groups.
3: Post good quality content.
Share advice and helpful information about services you provide as well as examples of recent jobs and before and after photos – people love a before and after!!
Post at least a few times per week and always make sure that what you're posting is valuable to your audience.
Respond to and share other people's content where appropriate to engage with potential customers and also other people in your industry.
4: Consider paid ads.
Paid ads omn social media are easy to set up and they can be a great way of building your following and customer base.
You can set the parameters to target people in certain locations so that your ads will be seen by a relevant, local audience.
The cost of these ads is basically as much as you're willing to spend. The more money you spend on the ad, the more people will see it, and if you only want to spend a small amount that's up to you. You can easily set the limits, and you can pause the ad whenever you like – so whether you're just starting out, or you're very established – you can make the ads work for your needs.
5: Encourage positive feedback.
Encourage happy customers to leave a review on your social media pages. This will be essential to building initial trust with potential customers.
Consider offering an incentive to everyone who leaves a review, such as 10% off the next job or entry into a prize draw.
6: Respond well to negative feedback.
Don't be afraid of negative feedback, it happens to everyone at some point and it may well not have been anything you did or had any control over.
You can always turn negative feedback into a positive experience in the way you respond because potential customers are more likely to judge you on your response to the feedback than on  the feedback itself.
Always reply in a polite and helpful tone and offer to resolve the issue in a timely manner.
7: Share pictures of jobs that you and your customer are happy about.
Aim to take pictures of every job that you do and make sure to mention to the customer that you'd like to add the pictures to your social media page.
This lets the customer know that you are proud of the work that you've done for them and they will usually want to find you on social media to see the pictures as an example of a job that you're proud of.
They will usually at least like the photo, and they will probably even share the post with their friends and family – which will help build your audience. It's also a good reminder for them to leave you a review.
---
---